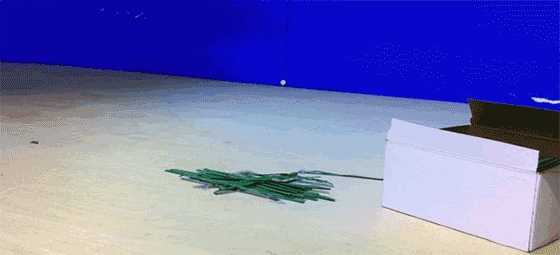 If you're even just a semi-regular internet user, chances are that you've seen an animated GIF in action. GIFs are the latest web craze – essentially they are short, silent clips of a sequence on an endless loop. They can be anything from a clip of a favorite television show of yours to an adorable animal doing something inexplicably hilarious.
Technology columnist David Pogue has a couple theories on why the GIF, after 26 years of existence, is in its prime now. Among his many ideas, he notes the technical limitations of smart phones and tablets as well as the fact that GIFs can play on almost any browser without a plugin as viable reasons for their popularity. There's also the notion that limitations foster creativity, which we can see through Twitter's 140 character limit and Vine's 6-second video limit. Some of the most relatable forms of media seem to happen in the shortest amounts of time! David also mentions that GIFs shouldn't be viewed as "stripped-down movies," but rather as "live-action photographs" that far exceed the story-telling capabilities of the still image – a pretty interesting concept. Check out the rest of David Pogue's commentary here.
Boinx's iStopMotion has recently joined in on the GIF fun. With Boinx's latest update (version 2.2 [more info] for the iPad and version 3.2 [more info] for the Mac), you can create the next animated GIF internet sensation using iStopMotion! With iStopMotion 3.2 for Mac, you can save any sequence of up to 200 frames as an animated GIF right to your hard drive. In iStopMotion 2.2 for the iPad, you can export the first 200 frames of our animation as a GIF and send and upload it either by email, iMessage, or DropBox.
"iStopMotion's new support for animated GIF export is a brilliant addition to an already fantastic product," says Charlie Collier, iStopMotion enthusiast who has created professional work such as "Ballad of a Prodigal Son" (more info) and most recently created the above animated GIF of his now-famous twist-tie characters (more info). "This new feature is a great way for animators of all levels to share snippets of their work in a quick and easy manner. And with the raising popularity of animated GIFs in the internet culture, it will hopefully inspire others to do the same. I can say with confidence that I'll be using this new feature quite a bit!"
So, what do you say? Ready to start creating your own animated GIFs? iStopMotion for iPad is now available on iTunes for just 4.99 USD. That's 50% off the regular price of 9.99 USD! If you already have the app, the update is free for existing users. iStopMotion for the Mac is now available from both iTunes and the Boinx website for only 39.99 USD, 20% off the regular price of 49.99 USD! But hurry … these special prices only stand until October 20th!
Get GIF-ing and start creating your own animated GIFs! Show us what you've got!