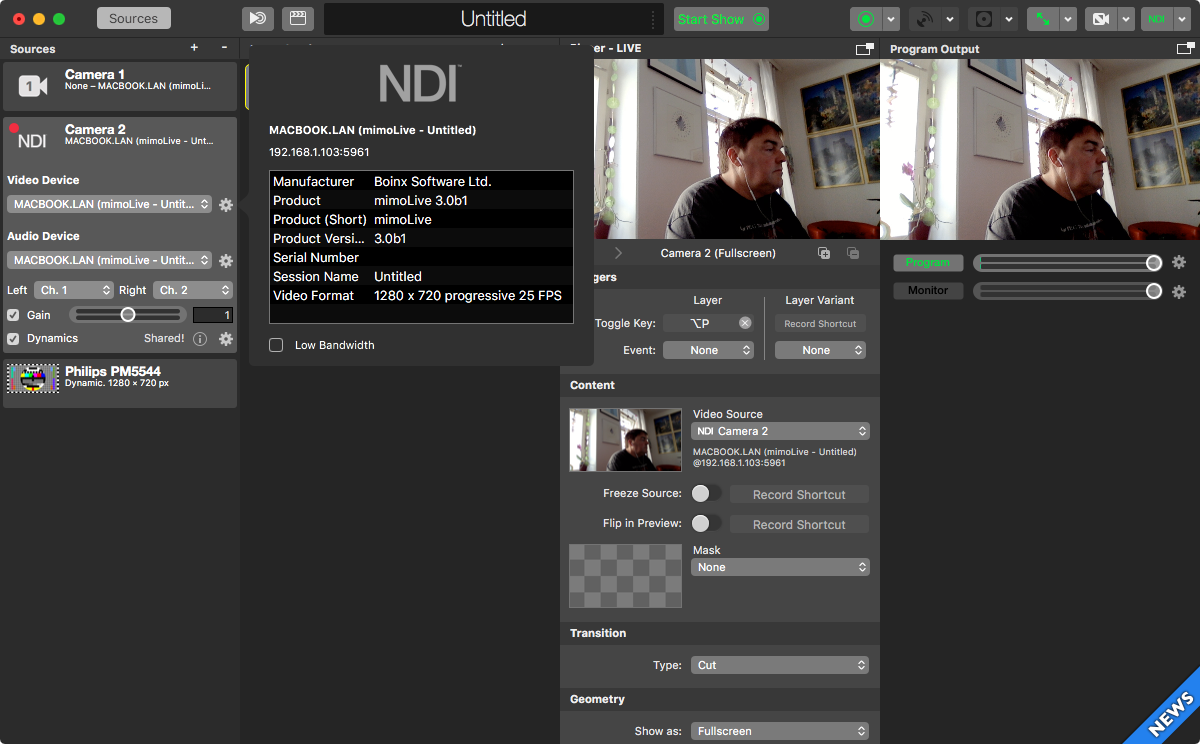 ​NDI® promises to usher in a new era in video production by taking the video signal to IP making it easier than ever to connect video sources over Ethernet, eliminating the need for special SDI or HDMI wires and capture devices.
In mimoLive 3.0, you can add NDI video sources from your local network and play out your mimoLive document via NDI to other apps and devices supporting NDI ingest. You can use mimoLive either as a very powerful NDI mixer or as a graphics generator for your NDI workflow.
Some use cases for NDI:
Use mimoLive as a grapics generator for your NDI production workflow.
Convert any camera into an NDI camera by attaching it to mimoLive and sending the mimoLive output via NDI to your production workflow.
Use your iPhone, iPad or Android device as a video camera with the NewTek NDI Camera app.
Directly play out your edited video from Adobe Premiere without waiting for rendering it first with the NewTek NDI for Adobe Creative Cloud.
Connect cameras with NDI like the PTZ Optics NDI cameras (PTZ control supported by mimoLive) or the NewTek NDI Camera.
Connect any camera to mimoLive over Ethernet with an SDI/HDMI to NDI converter such as the NewTek Connect Spark or the BirdDog.
Include the screen content of a Mac or PC in your mimoLive show by using the vMix Desktop Capture app.
Include non-video web content in your mimoLive show by browsing with the Sienna WebNDI app on your iPad.
mimoLive 3.0 also fixes a number of issues and is ready for macOS High Sierra.
(NDI® is a registered trademark of NewTek, Inc.) #ndicentral