Watch the complete mimoLive Keynote
#1 – Connect mimoLive to mimoLive over the internet
The biggest new feature of mimoLive 5.8 allows you to use mimoCall™ as an output destinations. The gives you the ability to connect mimoLive to a 2nd mimoLive over the internet.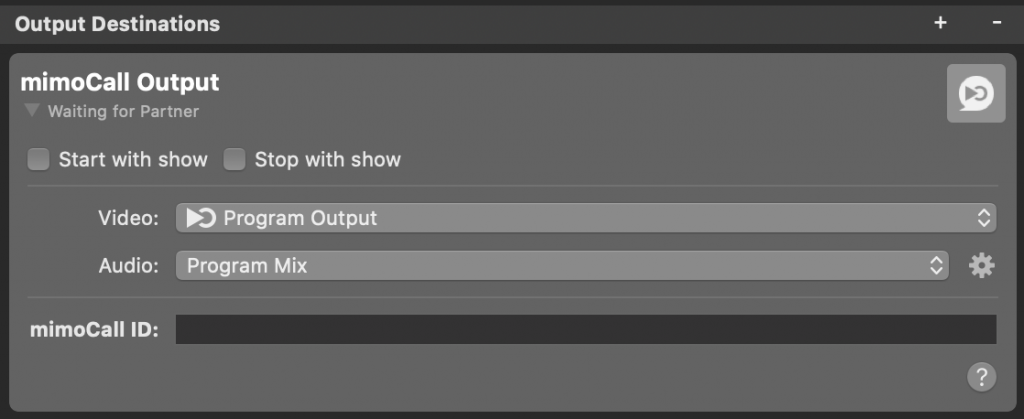 The live demo was produced with this new output feature for the first time. As you can see we have had a crystal clear video and audio quality. Here you can see how our production team used two mimolive instances.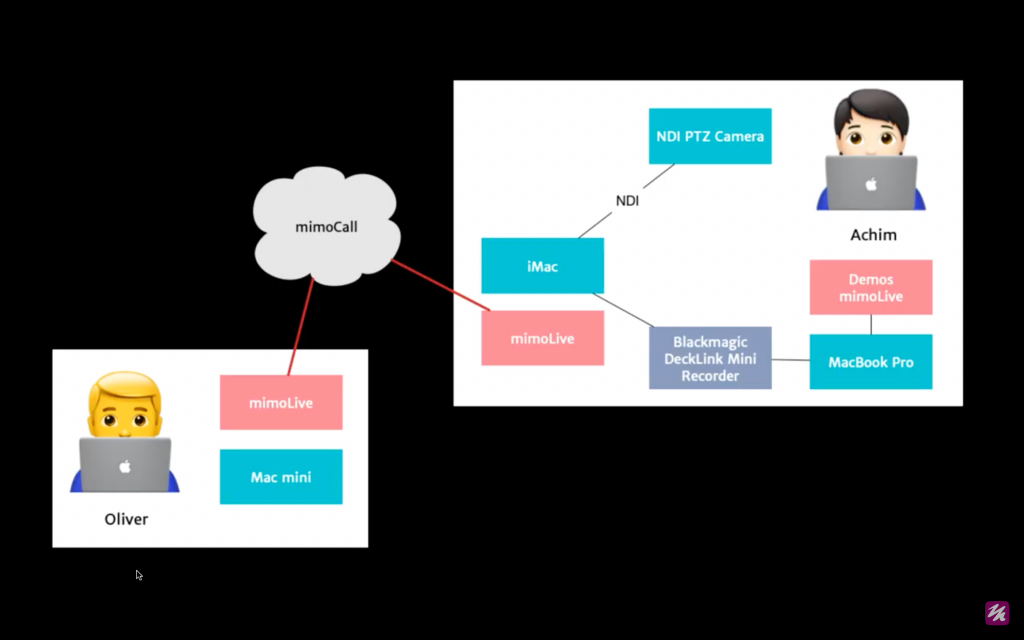 As another example, connection two mimolives via mimocall enables you to send an NDI® source from a remote location into your stream. Of course you can start from here and create much more complex mixes than ever before. Under the covid-19 restrictions creatives might find new ways to collaborate remotely to create maybe even movies. We will get to that specific example later this months.
#2 – Audio Update for mimoCall™: Mix Minus
To see section of the live demo: Jump into the video to 29:42
mimoLive 5.8 brings another milestone for mimoCall – more options for the audio which is send back to the caller. Select "Mix Minus" to exclude the caller's audio from the audio which is send back to him to avoid echos and feedbacks.
What is a mix minus?
Mix Minus is an audio signal that is carefully designed to avoid feedback and echo in a conference or telephone interface application. 
Learn more about mix minus on jkaudio.com

Pair this with the new capability of creating an audio mix to send back to the remote mimoCall to get a powerful tool for remote productions. You can use this new feature to create a talkback channel (aka IFB) to send instructions to the caller. Connect mimoLive to mimoLive over the internet increases the flexibility for every video production and gives creators a new ways to be creative.
#3 – Presets for your PTZ cameras over NDI®
Now you can control your NDI® PTZ cameras and move them to your stored preset positions. For an improved control, we have created the new PTZ Controller Layer.
This also allows you to control the PTZ camera via the Remote Control Surface.
Run your zoom conference by mimoLive
Connecting mimoLive 5.8 to Zoom and other video conferencing systems is much easier than before. The audio control have been improved as well. Easily create a mix minus audio for the video conference which prevents an audio echo. To do so, just select a custom audio mix for your Virtual Camera audio output.
Download mimoLive 5.8 from boinx.com and start your free 14 days trial today!